I recently came across an unused Dove Computer MacSnap RAM upgrade on eBay, so I bought it and installed it in my Mac 512Ke to bring its RAM up to 1 MB.
Dove MacSnap
MacSnap was a series of memory upgrades from Dove Computer for various compact Macs. Unlike newer computers where one can just pop in another SIMM to upgrade its memory, upgrading these Macs required a lot more components.
For the 512Ke, the MacSnap uses the factory 128k ROM and just piggy backs onto six of the ICs on the original motherboard.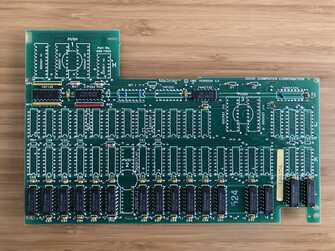 Installation
Installing the MacSnap requires removing the rear case, unplugging the analog board and floppy drive, and sliding out the motherboard.
Next, the MacSnap board literally just snaps onto the motherboard (with a lot of force required) with its piggyback adapters clipping onto the motherboard ICs.
It's important to apply enough force to get the sockets to fully clip together. The first time I tried, I didn't have them sandwiched close enough together and the Mac was still showing only 512K of RAM.
Once the upgrade is installed, just slide the motherboard back into the case, reattach the analog board harness and floppy drive cable, and put the rear case back on.
No extensions or other software are required and the Mac sees all 1024 KB of RAM at startup. The MacSnap package came with a diskette for RamSnap which is a ram disk application, but it's not required.
With everything installed and hooked up, I am now finally able to use the Flying Toasters screensaver of After Dark, which I couldn't before due to RAM constraints. StuffIt Expander is also able to extract some archives that it wasn't able to due to limited memory.
I'm also able to run MacTCP, MacPPP, and a client application simultaneously, making my Mac finally able to communicate with the internet natively with its own IP stack instead of having to rely on a WiFi232 to make all of its TCP connections. These screenshots show Fetch making an FTP connection and Eudora able to receive POP3 e-mail: