The Dolch PAC 64 is a portable, rugged Pentium-powered PC from the mid 1990s. It was usually used (and can usually be found on eBay) as a "portable network sniffer" complete with multiple network cards supporting multiple media types.
The PAC 64 was one in a series of portable computers made by Dolch Computer Systems throughout the 1990s and early 2000s that also included models fitting into briefcases. These days, many of them are purchased solely for their mechanical keyboards which used Cherry Blue switches for most of the keys. The modern Dolch keycap set is modeled after the color scheme of these computers.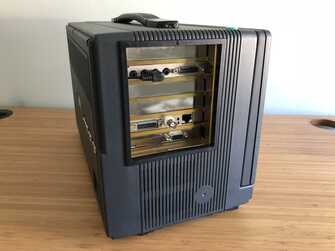 Original Specs
TMC AI5TV AT motherboard with Intel 82430VX chipset, four PCI slots and three ISA slots
DLCH-920C-1 power supply with custom enclosure
Intel Pentium P54C 200 MHz processor
64 MB EDO RAM
Chips & Technologies 65548 PCI video card with custom LVDS connector and cable
IBM 46H3640 12.1" SVGA (800x600) LCD with custom interface board
Adaptec ANA-6911/UC 10/100 Ethernet network card with RJ45/BNC/AUI connectors
Network Peripherals 105-0168-02 NG PCI FDDI network card
Cherry G80-1813 keyboard with PCB-mounted Cherry MX Blue switches (Cherry MX Green switch for the space bar) connected to the AT keyboard port via a custom RJ11 connector
TEAC 3.5" IDE floppy drive
TEAC CD-316E IDE CDROM drive with 44-pin IDE connector and custom 44-pin to 40-pin board
PC speaker
I'm not sure of the original hard drive capacity or software included since there was no hard drive supplied with the one I purchased (probably removed before sale for security).
Upgrades
The computer was in good condition when I received it and in full mechanical working condition so there wasn't much to restore. The 200 MHz processor is already the maximum speed supported by the motherboard, but I upgraded the RAM to the maximum-suppported 128 MB (four 32 MB EDO SIMMs). Filling all four SIMM slots makes a bit more cramped behind the power supply as some cables rested in that spot previously.
Since there was no hard drive included, I installed a CompactFlash-to-IDE adapter board and an 8 GB CompactFlash card.
I replaced and upgraded the fans of the case, processor, and power supply with near-silent ones. (I have apparently forgotten how loud computers used to be.) The CPU side-mount heatsink and tiny fan were replaced with a larger direct-mount copper heatsink and fan.
The original LCD appears to be directly from an IBM ThinkPad 760e and has a slider on the front case to adjust brightness like the ThinkPad. A sticker inside the case confirms the LCD manufacturer as IBM. The keyboard with TrackPoint on the Dolch PAC 65 looks suspiciously like a ThinkPad keyboard as well.
Anyway, the LCD had a few dead pixels in it, but due to the custom LVDS cable/board used and the brightness slider, I was not able to upgrade it to a higher resolution model. A replacement 46H3640 LCD was purchased cheaply and installed.
Since I was planning on playing a few old DOS games like Wolfenstein 3D, Duke Nukem 3D, and Return to Zork, I wanted a decent sound card. I originally installed a Sound Blaster 16 CT4170 ISA card but found it to have a lot of background static when plugging in headphones. I later swapped in a Creative Labs CT4500 Sound Blaster AWE64 ISA sound card and, taking a tip from this video, installed two 1.3" speakers behind the screen and wired them directly to the line-out jack of the sound card: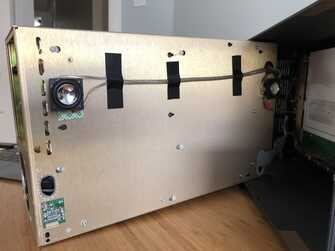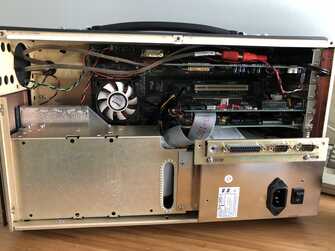 For dialing up to BBSes, I am using a US Robotics 3453C modem. Since there was no mouse included with the system, I acquired a NOS Microsoft Basic PS/2 mouse with serial port adapter.
Software
Since the PAC 64 came out in the mid-90s, Windows 95 OSR2 seemed to be the most appropriate version of Windows to install. I dded a Windows 95 boot disk image to a floppy disk via a USB floppy drive on my MacBook, which allowed me to boot the machine and format the CompactFlash drive with FAT32.
Lacking a CD-RW drive on my Mac and blank CDs, I cheated and mounted the CompactFlash drive on my Mac, then copied the win95 directory of the CD image to c:\windows\options\cabs and ran the installer on the PAC 64.
With TCP/IP configured over the Adaptec ethernet card with the default Windows drivers, it became much easier to copy software downloaded to my Mac by running an FTP server on the Mac and fetching it on the PAC 64 from the command-line FTP client (later using WS_FTP LE). SMB support in macOS High Sierra does not support SMB1 required to negotiate with a Windows 95 client, so I am not able to copy files via SMB. I may install Samba somewhere on my network just to get that working.
While the C&T 65548 video driver included with Windows 95 supports the 800x600 resolution at 16-bit color, I noticed some color corruption issues when playing some DOS games such as Duke Nukem 3D. Installing Toshiba's C&T 65548 driver seemed to fix the issue for me in all DOS games that I tested.
Internet Explorer 5.5 and Netscape 7.2 are the latest browers that still support Windows 95, but due to the rise of SSL/TLS everywhere (and stronger encryption) and the insecurity of these old browsers, navigating the web is quite difficult.
I tried using my modem to connect to AOL 3 but all of the 800 numbers hardcoded into it return a busy signal, so it was not possible to try it. Later versions of AOL supported connecting over TCP/IP but they also seem to need a promo code that would have been supplied on the 30-hours-free CD-ROM cover, which I don't have.
Some useful Windows utilities I installed are Tweak UI from Windows Power Tools, and the keyboard remap utility from Windows Kernel Power Tools, which allows remapping Caps Lock to Control, and a key like right-Alt to a Windows key since the PAC 64's keyboard does not have one.
The PAC 64 does not seem to support suspend in Windows 95 (the LCD never shuts off), so the Suspend option can be removed from the Start Menu.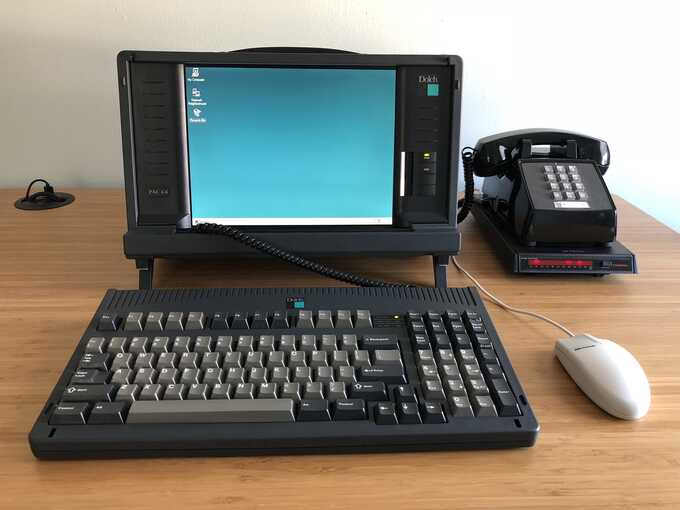 Future
For now I'm just using the PAC 64 as a retro computer and playing some games. While it does boot OpenBSD/i386, Xorg does not seem to work with the custom C&T chipset and being limited to 128 MB of RAM, using Firefox would probably be painful.
Once I get bored of using Windows 95 and tinkering with Visual Basic 6, I may decide to upgrade the internals with a modern motherboard and processor, gigabytes(!) of RAM, an SSD, and a higher resolution 12.1" LCD panel to use as a dedicated OpenBSD desktop. I'm not a gamer and have no desire to make it into a powerhouse with a dedicated video card or liquid cooling.
A custom LVDS controller could be used to power a HV121P01-100 1400x1050 LCD from a ThinkPad X61 Tablet, which would fit in the same front opening and hopefully not require any permanent modifications.